A collaboration with Kunsthall Trondheim and Goethe-Institut Oslo.
November 5 2020, 7 – 9pm at Kunsthall Trondheim and online.
To participate online (via zoom) click here.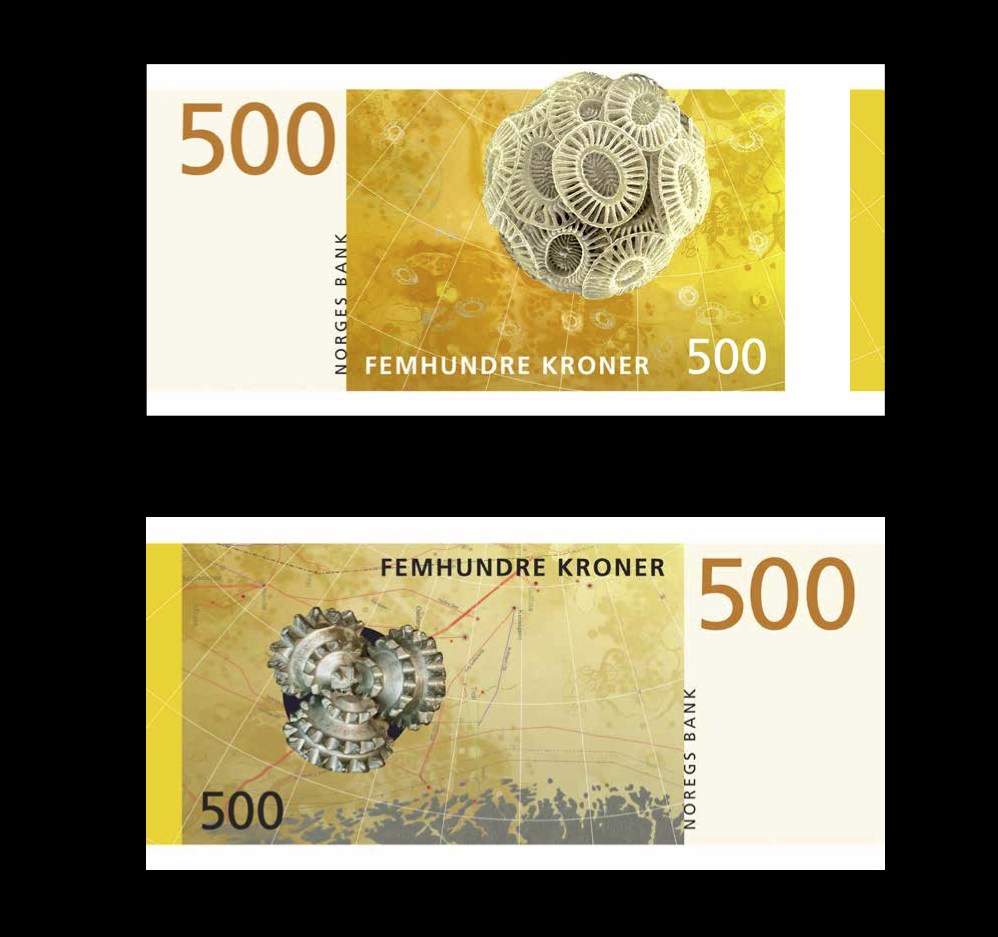 In a musée imaginaire of the Norwegian history of extraction, a competition published by the Bank of Norway in 2014, calling for a new banknote design, could play a central role. The submitted sketches depict Norway as a land oriented towards the sea, in which the sea is simultaneously understood as an elementary space, a space of extraction and a molecular space of microorganisms and chemical compounds.
One of the unrealised banknote designs contrasts the natural form of a paleohistorical plankton particle that was part of oil formation with the technical shape of a drill head used for oil exploration. It is a complementary image of the molecular essence of oil technology and the opening up of natural history as a source of economic wealth by technological means. It may indeed be an image for the way Norway has approached its own petrol age.
Since the 1970s, Norway has been one of the most successful oil and gas extraction countries worldwide. Apart from other extraction countries, the depletion of fossil resources was anticipated before explorations began, giving rise to the notion of a sustainable post-oil future. Yet, the energetical base of fossil modernity on which Norway has built its social-democratic prosperity has become increasingly problematic. While the country has moved towards more sustainable means of energy production, it has not stopped its oil and gas extraction. New oil and gas fields are opening up and widening the area of exploration as far as the Arctic. The end of oil is being postponed, or so it seems. At the same time, Norway decidedly moves towards a post-fossil future by banning combustion engines on its own terrain and positioning itself as the sustainable"battery for Europe" thanks to its large reservoirs of hydro power.
We are witnessing a move from fishing to industrial whaling to oil extraction to hydrotechnology and back—and all at the same time. This event will focus from a petrocultural-comparative perspective on questions such as: How does Norwegian society cope with these ambivalent moves? How does it culturally represent its petromodern legacy? What are the grand narratives that were established to lead Norway into petromodernity and beyond? Have they changed?